Our last month review of the Vancouver real estate reveals that sellers are now listing their properties at a price experts described as "reasonable". The trend yet persists as the condo and the condo price falls to the lowest compared to any other major market in Canada.
In spite of the price plunge, Greater Vancouver's condo still leads in terms of valuation. For instance, Greater Toronto condo which has appreciated by 9.1 per cent since the beginning of the year is still valued at a lower price ― although at a low different margin.
Condo Per-Square-Foot Price Depreciates by 8.3%
This was revealed in a report by a real estate firm, Royal LePage. According to the report, per-square-foot of a condo in Greater Vancouver now costs about $764 compared to other years when it was priced at an average of $1,044. The market can be said to have depreciated by 8.3 per cent year-over-year, the report indicated.
Commenting on the dominance of Vancouver's condo pricing even though it plunged, a real estate with Royal LePage, Adil Dinani said; "With a deceleration in Vancouver's condo market, buyers for the first time in several years can benefit from the changing landscape,"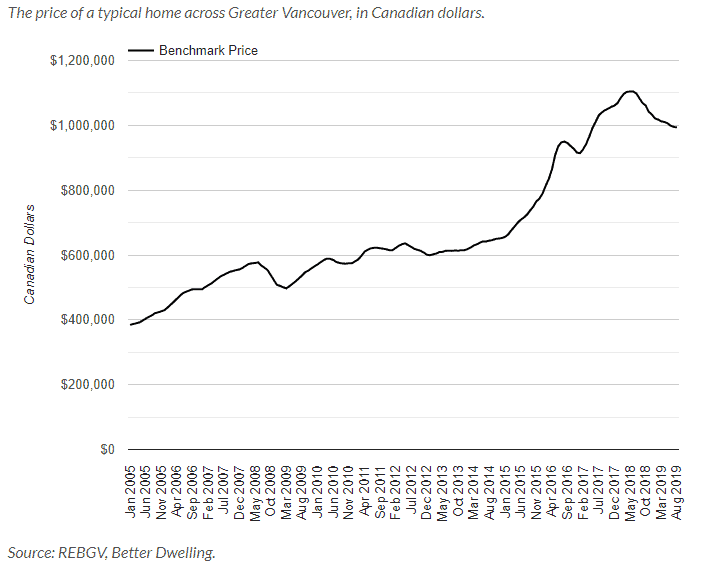 Buyers Checking Our Neighbouring Locations
This high pricing has made lots of buyers continue to look elsewhere for properties, especially the neighbourhood. Burnaby, the Tri-Cities, and the Fraser Valley are reported to have offers that entice these buyers the most.
As much as many buyers are looking outside Vancouver for enticing deals, there are others jumping back to the market.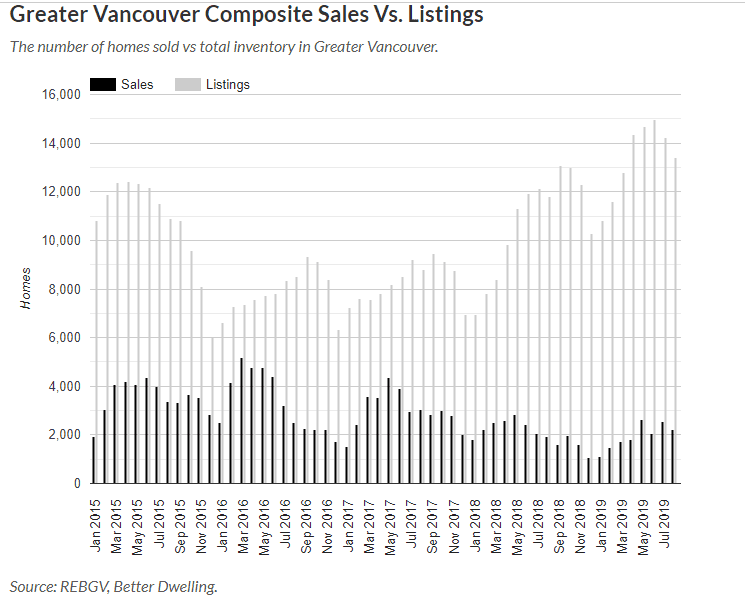 Buy a Home Win Model 3 Tesla Promo
In a development that looks like the most extravagant bonanza ever, a real estate firm, Century Group started a give away of Model 3 Tesla base model to 10 buyers of its remaining 10 homes at its newest development, Viridian in South Surrey. The promo is expected to run from September 14 until October 31.
The president of the company, Sean Hodgins revealed in a press release the gift is possible with their partnership with Tesla.
So far, it has been good news about the Vancouver real estate market even though we noted the plunges made Greater Toronto condo price few dollars below-average price compared to the Vancouver real estate.
The general market of the Greater Vancouver real estate even though has been improving, it is yet to meet up to those of previous years, not even last year. However, experts describe it as a stage the market is entering technical correction.
The local board benchmark price, REGBGV reported that the benchmark of a conventional Vancouver's home in August cost $993,000 in August. This is a price that is about 8.3 per cent lesser than the same time last year.
Vancouver East experienced even a higher decrease of 9.3 per cent compared to last year. The price was $1,033,400 this year's August.
Same thing with higher-priced Vancouver West. Which also fell by 9.3 percent. The price of a typical home in the region in August was $1,226,200.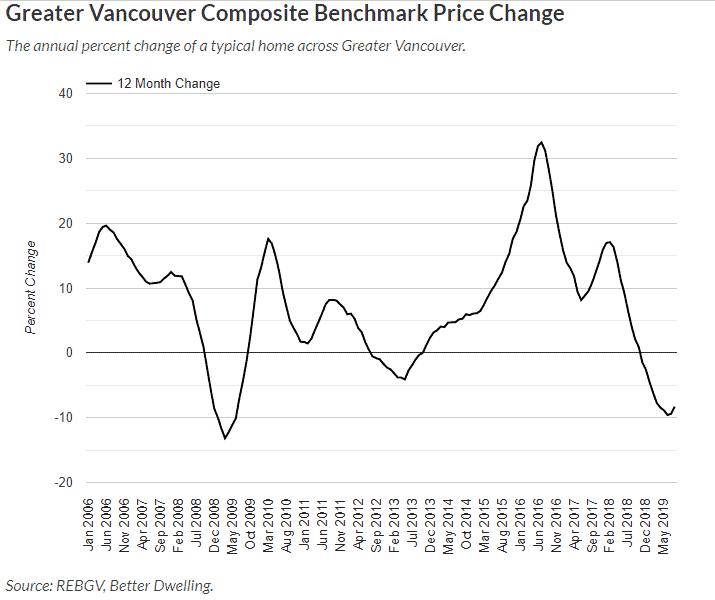 Falling Price Good News for Buyers
The price fall might not be good news for sellers but it presents an investment opportunity for sellers looking into breaking into one of the most lucrative real estate regions in world. The Better Dwelling reported more buyers are now coming back, with sales increasing two-fold compared to same time last year.
In the REGBV report quoted, there were 2,231 sales in August ― 12.7% reduced from last month's (July) sales. But 15.7% higher than the same time last year. This can be celebrated but it is also it is still 9.2 per cent lower than average of previous 10-years August sales. In fact, this is the second-fewest August sales in the past 5 years.
Announcing the improvement, the REBGV president said "Home sales returned to more historically normal levels in July and August compared to what we saw in the first six months of the year."
Condo Listed and Sold in Four Days
In a deal documented by the Globe and Mail, a listed condo only spent 4 days on the market before being sold. The asking price was also the paid price. However, the agent in charge of the property noted it would have worth about $100,000 more if it was listed and sold last year.
There Are Lesser Listings Too
The slight improvement in sales and price may be accrued to the decline in the new listings in Vancouver. According to the REBGV report, there were only 3,747 new listings in August. This is about 18.8 per cent lower than that of the previous month (July).
According to the Better Dwelling analysis, "The monthly decline is typical for the season, but the more modest annual decline is not. Even with a drop in new listings though, the number of total listings continues to swell."
The total number of active listings increased (13,396) but yet lesser than the previous months (about 5.9 per cent lower). This can be said to be as a result of the higher sales.
The active sales to the active listing ratio (SALR) reached 16.7 per cent which is higher compared to last year's 16.3 per cent.
Stats like this is important in real estate because it interprets the trend of the market. When the SALR is below 12 per cent, there is a high tendency for prices to significantly fall. When above 20%, the prices are presumed to rise and when in-between, it is considered a balanced market.
Looking at the case of Vancouver which is 16.7 per cent, the market although can be described as being balanced, it can be noted that the balance tilts more to the seller side. A ratio of about 13 or 14 per cent can be considered as a balanced market favouring buyers more.
Considering this analysis, the Vancouver real estate market problem is that sellers are not willing to sell at a price buyer are willing to pay, even though they may be desperate to sell.
Vancouver Real Estate Expected to Stabilise by "2020"
Good news for investors! The Vancouver real estate is predicted to "normalise" by 2020. On the other hand, sales are expected to drop in 2019 by 5 per cent and significantly rise by 11 per cent in 2020.
This was according to a forecast by the British Columbia Rea Estate Association. The prediction also stated housing prices will fall by an average of 2.4 per cent this year and will likely rise by 3 per cent in 2020.
Vancouver Properties Exhibited in Hong Kong
Hong Kong economy has been experiencing some serious crisis especially due to the consecutive protests by its citizens.
Vancouver developer are leveraging this uproar to get the Hong Kong real estate investors to Canada. The Hong Kong vice president of international property at Soho, Eli McGeever was quoted by BIV to have said ""In the first half [of this year] there were 55% more exhibitions of Canadian property in Hong Kong than in the prior half,"
The report showed four real estates taking the vanguard in wooing Hong King investors to Vancouver ― Enrich Developments, Shape Properties Group, Westbank Corp. and Aspac, McGeever.
Is This Yielding Any Result?
The resulting security risk of the Hong Kong protest has in the last months tremendously hike the number of applications for foreign visas in the country.
The number of applications compared with a year earlier in June (12 per cent); July (41 per cent); and August (48 per cent), according to the statistic released by Juwai.com.
In spite of this, it seems Chinese migrant are looking elsewhere instead of Canada. They prefer Asian countries like Malaysia which is more affordable.
Why Are Developers Then Targeting Hong Kong?
There are about 320,000 Hong Kong residents already with Canadian passport. This is the group the developers are targeting and they are also interested in interesting in Vancouver.
A report revealed that Hong Kong residents are interested in properties in West Vancouver, Vancouver, and Richmond.