In a word, the outlook for the Greater Vancouver real estate market in the next year is 'good' according to industry sources. The British Columbia Real Estate Association (BCREA) points to continued economic growth as contributing to a boost of sales in 2019. The Real Estate Board of Greater Vancouver (REBGV) cites historic trading patterns that will see average prices of detached homes dropping 21-percent in 2019.
MLS Sales Down From 2017
Cameron Muir, Chief Economist for the BCREA, says that Multiple Listing Service sales are projected to record a dip of 23-percent compared to 2017. However, he is confident that the strong economy "combined with favourable demographics" will have a positive impact on home sales in 2019. So much so, that Muir expects the sales figures to exceed the 10-year average in the next 12-months.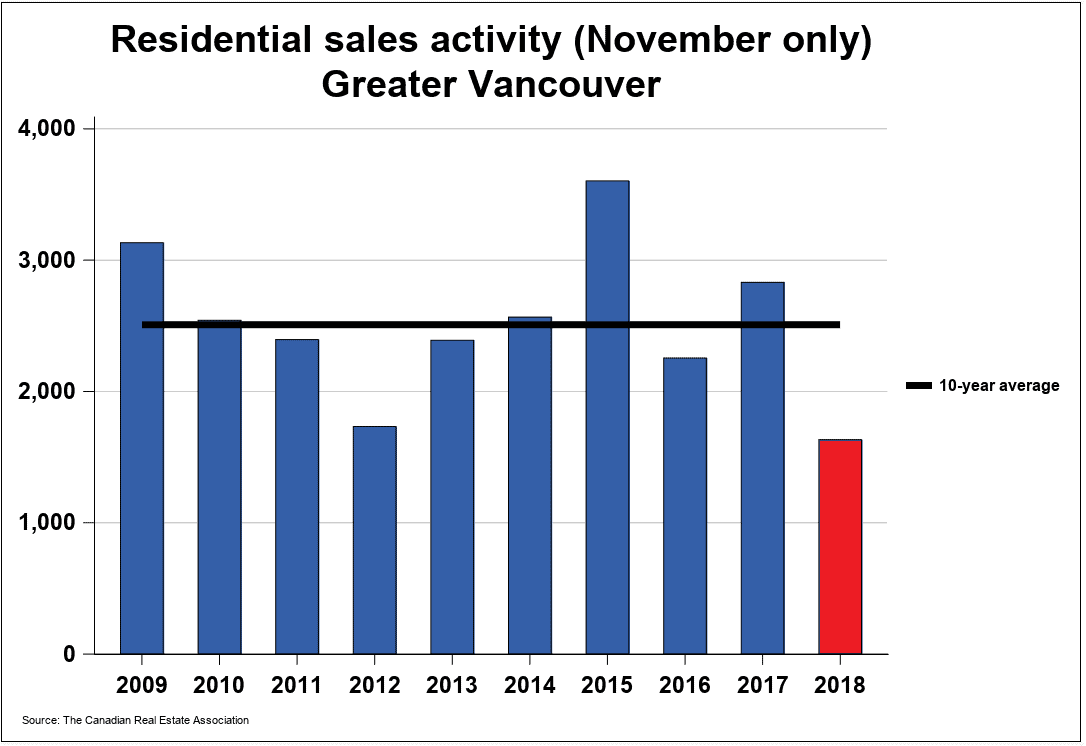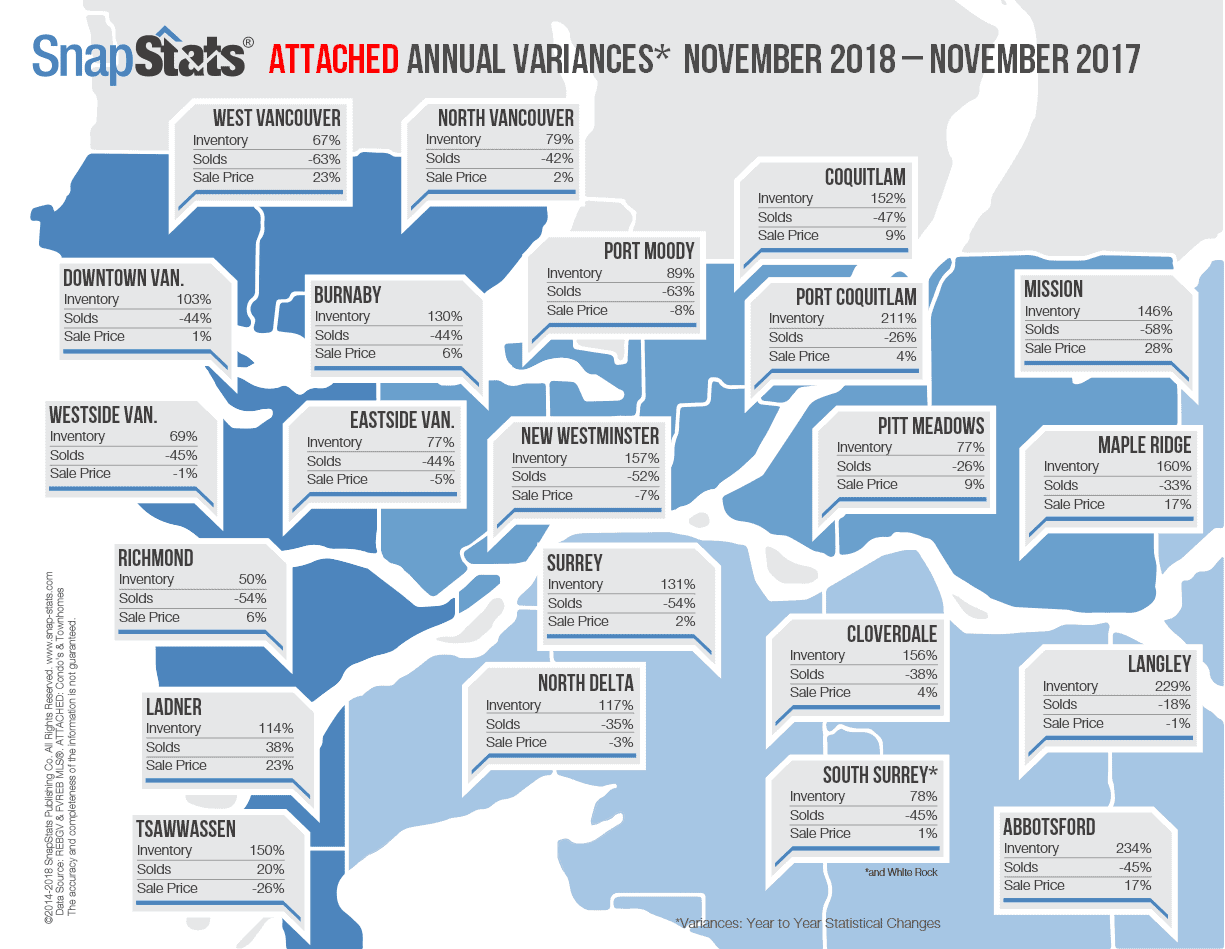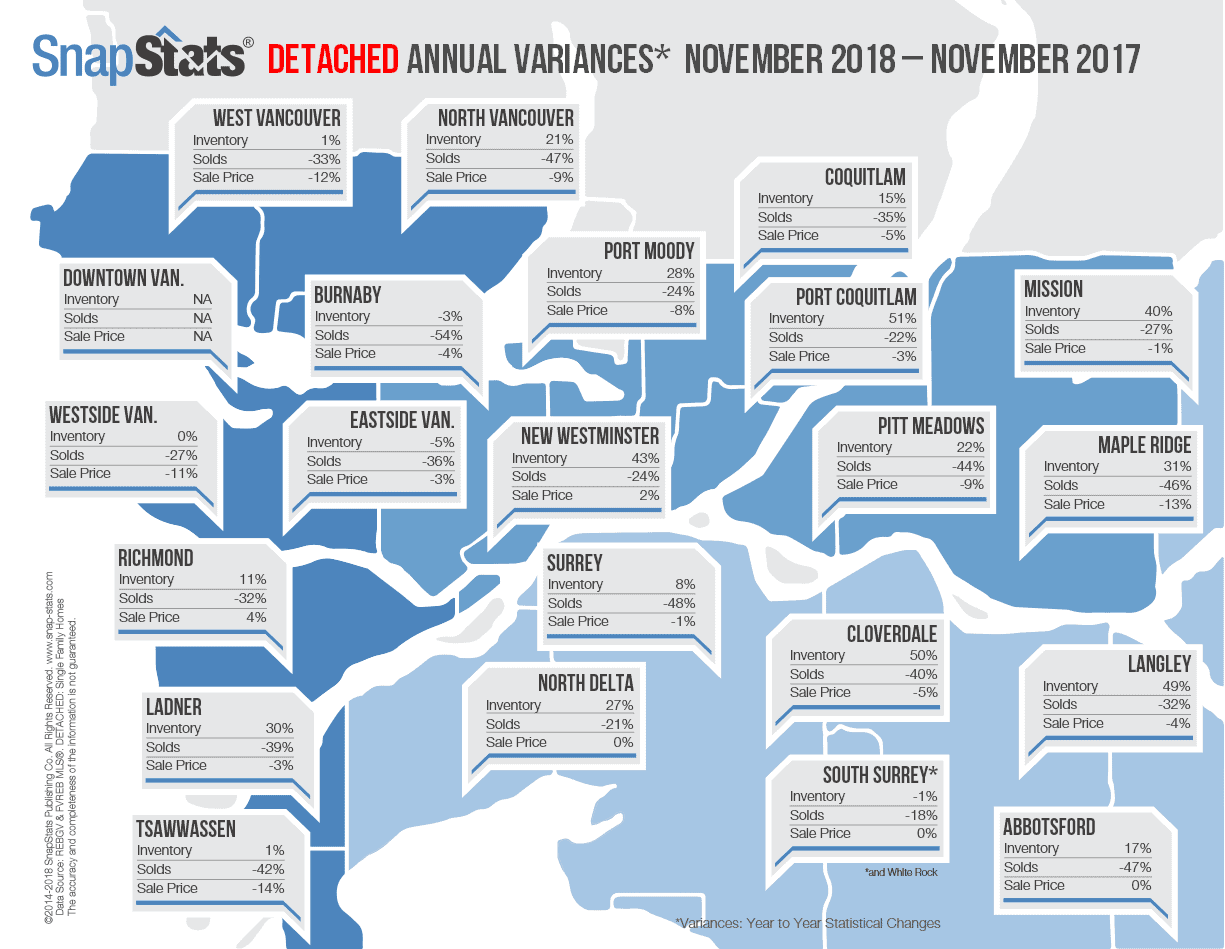 Greater Vancouver Price Cycles
By tracking detached house sales and average prices over forty years in Greater Vancouver, trends have been revealed. For example, the last long-term cycle started in October 1987 and extended into 1996. It was during this cycle when the average house price grew 190-percent to a peak in February 1995 of $286,000. It was at that point when the average price started to drop and fell a total of 19-percent in December 1996.
It took six years, until November 2002, for the average house price to reach that peak following a period of recovery. REBGV analyst Dane Eitel verifies the 40-year charting and states that over the course of those four decades there has been a "consistent pattern of short-term cycles that have always led to higher prices after a breakout." The most recent price peak was an average of $1.8-million in May 2017 and Eitel says that price won't be matched until late 2023.
Predictable Patterns Mean Future Sales
Technical charting is a common practice in the equity market and is a useful tool for investors who buy and trade. The same method of charting in the real estate market reveals cycles. These cycles provide the data necessary to predict certain buying and selling trends. However, there are also outside influences that can be tracked and tend to show similar patterns.
Politics Has An Impact
Eitel explains that the current conditions in the Greater Vancouver real estate market bear a striking resemblance to the conditions that existed in the 1990s. He cites November 1993 when there was a Liberal Prime Minister and BC had a NDP Premier. The average detached house price at the time was $347,300. The two parties were in power until June 2001 and the Greater Vancouver detached house average sale price increased 6%.
Based on this data, Eitel predicts the market will drop from the higher end of the price scale and see sales in the lower half of that range during 2019. He also feels this trend will last for several years. Regardless, he adds that you can buy anytime in the Greater Vancouver region and still experience value growth in your property within ten years.
The CMHC Also Expects Market Growth
A forecast from the Canada Mortgage and Housing Association shares the same belief of sales increases in the Greater Vancouver real estate market as the BCREA and REBGV. Their forecast points to a sales trough in MLS properties with a level of recovery during 2019 and into 2020. The CMHC also states that average prices will eventually decline "as demand and supply find a new balance."
As for the housing demand in the Lower Mainland, the CMHC estimates that the demand has suffered due to slower population and employment growth in the region. However, with overall economic conditions considered favourable, they still have a positive outlook for the market in 2019 and beyond. These conditions nod to continued growth making the region strong on many fronts.
Higher Sales With Prices Dropping
The CHMC forecast essentially echoes the other sources noted above. They predict higher sales figures in the coming months with sale prices expected to drop as time passes. The main factor contributing to the CMHC forecast is housing policy changes from all government levels. This has resulted in "an evolution of short-to-medium-term home price expectations." This shows a relative decline compared to the prices from a year and two years ago.
In Conclusion
If trends are any indication, and in the real estate market they are valuable tools used to predict future activity, there is no better time to invest in the Greater Vancouver housing market. Average sale prices are dropping so selling your home now would be beneficial to you with prices expected to drop further in the coming months. If you are seeking your first home in the region, sale prices are dropping and will remain lower than recent average highs for many months to come. In other words, the real estate market in Greater Vancouver is going to be a hot spot in the province before too long.