Urban Oasis in the heart of Yaletown
"Yaletown Park." Be a Part Of An Urban Oasis in a Park Like Setting with an unbeatable location. You are steps away from all the boutique shops & restaurants in Yaletown as well as all the theatres, libraries, and grocery shops in the near vicinity.
Top-notch building with exercise centre, endless gardens, party room, media room, guest suite, and concierge, to name a few. Yaletown Park 1 is a great location with shopping, fine restaurants and skytrain just a 5 min walk away.
Enjoy Urban Lifestyle in the heart of Downtown: Seawall, many beautiful parks, trendy boutiques and professional hockey, soccer and football.
Steps to The Pinnacle, Subeez Cafe/Restaurant/Bar, Villa Del Lupo, Hamilton Street Grill, Yaletown Keg Steakhouse & Bar, Section (3), Raw Canvas, Uva Wine Bar, Blue Water Cafe + Raw Bar, Glowbal Grill & Satay Bar, Players Chop House, Yaletown Liquor Store and Brix Restaurant.
Don't forget that a large Starbucks is even in your complex.
On the Map
Yaletown Park is located in the heart of Yaletown and only a steps away to Robson Steet, and only minutes away to the seawall, Rogers Arena and much more.
Public transit is Easy
There are plenty of bike lanes
Having a car is not required
YVR Airport: 30 minutes by cab or Canada Line
Rogers Arena & BC Place: 5 minutes walk
Seawall: 5 minute walk
Robson Street: only steps away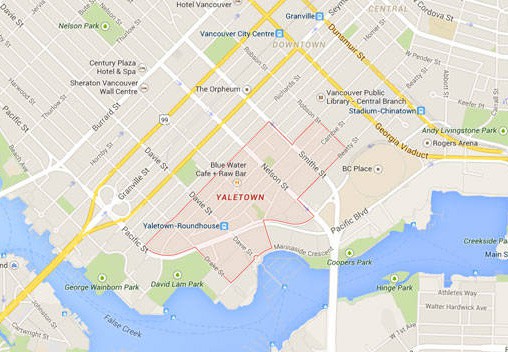 Your Urban Oasis
You couldn't live in a better location. Literally steps away from Robson Street, you are in touch with every amenity you could imagine, from high end shops to amazing restaurants and eateries. You're also within reach of the famous Yaletown warehouse district, Rogers Arena and the seawall.
When you're ready to talk we're here to help