The Real State of Real Estate in Vancouver
Owning a home in Vancouver is a dream come true for many, a dream that seemed unattainable in recent years due to increasing real estate prices in this region. However, as the reports show a decline in the market; this is the best time for prospective homebuyers to get in.
Vancouver is the third most expensive city in Canada. It's located in the Southwestern part of British Columbia and has massive cultural diversity and natural beauty due to its proximity to the Pacific Ocean. Real estate prices in this area have been driven up by demand for houses fueled largely by wealthy immigrants who moved into this area because of lenient laws on home ownership and diversity in the city.
According to a new housing forecast report by Central 1 Credit Union, British Columbia is in a mild recession with the mainland shifting from a seller's market to a buyer's market. Recession is a period marked by economic decline, a sharp drop in home sales, and a slowdown in housing starts. In the month of April 2019, resale of residential properties dropped 17% from 2017 to 2018, while housing starts slowed by 10%, with another 18% drop forecast for 2019.
Nevertheless, it's not all gloom for homebuyers who can enter into the real estate market by snagging up prime houses at a lower cost and reaping the gains once the market stabilizes. According to the Conference Board of Canada, the slowing growth in this sector is expected to last for at least two years.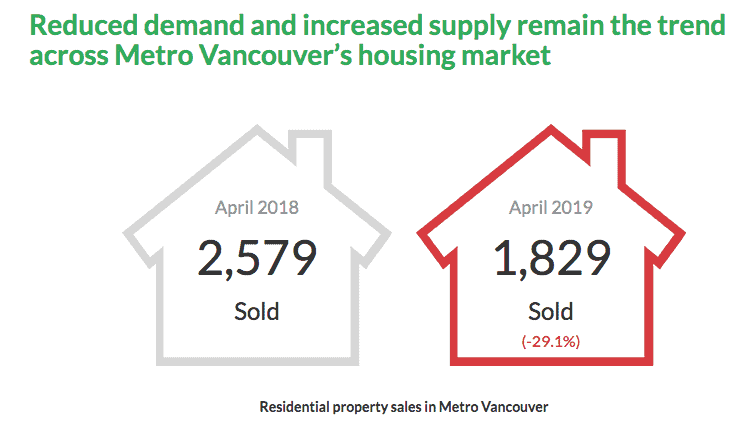 Detached Homes Sales Drop
From the latest figures from the Real Estate Board of Greater Vancouver (REBGV), sales are now lowest in three years. According to REBGV, the price of a detached home is dropping. The report shows the Greater Vancouver detached benchmark dropped down to $1,404,200 a drop of 11.1% from last year. A decline of 26.7% was recorded on detached homes compared to last year the same month.
The report further indicated that the eastern part of the city's prices dropped to $1,357,200, 12.1% drop from last year. Western Vancouver wasn't spared and performed even worse. The prices dropped down by 13.4% from $2,950,000 last year. As per the figures, the losses in just one year range between $177,000 to over $440,000. This downturn is driven by policy measures such as the introduction of speculation tax, school tax and a slump in the economy of the region.
The popularity of new listings of detached real estate in Vancouver is currently high. REBGV reported a 234% increase in new listing compared to a month before. This being twice as much as last year, leading to a decline in demand thus reducing the number of sales. As much as this news is bad for sellers, it is good news for buyers. It would be prudent for one to buy a detached house at this moment, as the prices are hugely low.
Things are not as dire as they seem. In spite of the declining price, which is projected to last for at least two years, there is a positive outlook. On the bright side, home inventory is exchanging hands, which only means money is circulating. The board reported 1966 transactions in the month of April an increase from 1727 reported in March. Maybe this increase is due to the season (spring) which previous data shows the number of sales increase during this period.

This April has received the most detached inventory since 2014. The listings reached a multi-year high end for the month. The total numbers of active listings were 6,236, a 10.39% rise as compared to the previous month. As compared to April last year, the figures represented an increase of 8.71%.  
Why Real Estate Is Becoming More Expensive
Central 1 Credit Union chief economist Helmut Pastrick told the Vancouver Real Estate Forum that prices will likely double between 2016 and 2014. The reason for this is simple: An increasing populace and the need for developers to build more homes to accommodate the increasing demand. Now throw in the effects of new regulations and higher construction costs in terms of material and labor and the real estate prices shoot up rapidly.
There is also the question of affordability. Jonathan Woetzel from McKinsey & Co. a leading consulting firm in Cities Special Initiative foresees that third city dwellers will have inadequate housing by 2025, the price of the real estate is the reason why.
That's a combination of people who just can't find housing, there isn't housing there for them, and people who have to pay too much for housing," he explained. "So Vancouver, you're not alone.
The government can't spend to plug that deficit which is quite huge and would be very expensive. The private sector developments are what is needed to bring in new housing units are that well priced to the majority of the city dwellers.
New Policy Measures
British Columbia government introduced a foreign buyer's tax in 2016 in response to increasing home prices driven by wealthy immigrants. In the last year, this rate has gone up from 15% to 20%.
The market has been hit by a Federal Mortgage Stress Test which is meant to reduce the amount borrowers can take out on a mortgage and mortgage rates have gone up in the last two years. In addition to that, the city has introduced a vacant home tax that could force investors and homeowners to sell at the current market rate.
These measures are meant to reign control on the housing market whose prices are rising too fast in the short term but ultimately don't do any good. However, many experts agree that these measures are forcing the market to adjust pricing in the long term and removing the foreign buyer's tax and mortgage stress test will cause the price to start rising again and lead to mortgage debt stress on homeowners
Real Estate Board of Greater Vancouver stats shows a 30 percent dip of buying compared to last year. Buyers are fearful of buying now when the prices are still decreasing. But according to a report by Pollster Angus Reid, families or singles with lower debt are well positioned to buy right because they will make a killing once the market stabilizes. There is one thing that professionals agree on; real estate prices will start increasing in the near future.